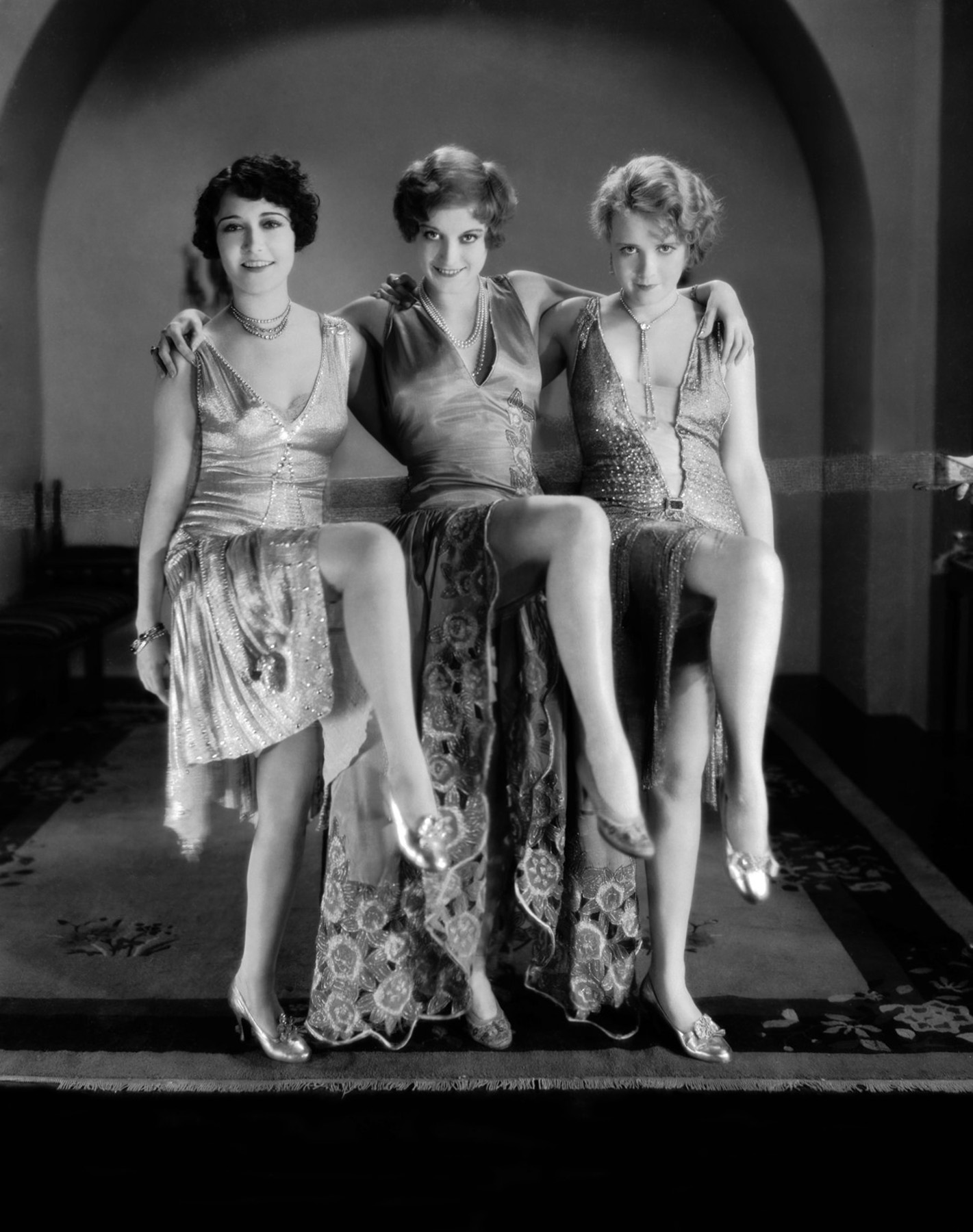 "David Cox, who had been [Gilbert] Clark's assistant, stayed on until 1931 and became a fully-fledged designer. He did Joan Crawford's famous beaded Charleston dress for Our Dancing Daughters and the rest of her films until the arrival of Adrian.

Anita Page, Joan Crawford, and Dorothy Sebastian in costumes by David Cox.

Six days before the film had its world premiere in New York on 6 October, an article appeared in the New York Evening Journal that was ostensibly written by Joan Crawford herself. More likely, it was the creation of an anonymous writer in the publicity department. In either case, this article, widely reprinted across the country, goes a long way toward establishing an image for the actress that would reverberate throughout her career at MGM:

'Something new has entered the world of clothes and personal adornment. It is not just a change in fashion, a new style. It is a concrete, tangible thing. A spirit. The spirit of modernity. The spirit finds an expression of itself in the clothes we wear. They are modern. They are startling. They do not blend; they contrast. They do not conceal; they expose. They do not rustle; they swing. They do not curve; they angle. Perhaps this new feeling in the dress finds its first and most definite expression in the motion picture world. We are the first to exploit a style. The modern clothes spirit I am talking about is abundantly typified in the picture Our Dancing Daughters. My own wardrobe, and the wardrobe worn by Dorothy Sebastian and Anita Page, breathe the very essence of restless activity…the costumes of that particular production as the costumes of my own personal wardrobe.'

Excerpted from

This article was one of the final pieces of publicity in an exploitation onslaught that made Our Dancing Daughters a watershed film for the marketing and publicity departments at Metro-Goldwyn-Mayer."
–Excerpted from Gowns by Adrian: The MGM years 1928-1941. by Howard Gutner, New york: Harry N Abrams, Inc., 2001. 104.
For a great clip of the Charleston Dress designed by David Cox, scroll to the 40 second mark (to get past the credits):

*(above image: Anita Page, Joan Crawford, and Dorothy Sebastian in Our Dancing Daughters (1928) in costumes by David Cox)