If I had only one word to describe this past weekend's CSA event at the Getty, it would have to be "opulent" – if only for the quantity of gold and silver on display.  CSA Members and guests were treated to tours of not one, but two fashion exhibitions by two extremely knowledgeable curators at the Getty. Elizabeth Morrison, Curator of Manuscripts gave a masterful overview of Fashion in the Middle Ages (on view through August 14), and Charissa Bremer-David, Curator of Sculpture and Decorative Arts provided many insights into Paris: Life & Luxury (it closed last weekend at the Getty, but opens at the Museum of Fine Arts, Houston on September 18). I am extremely grateful to Kimberly Chrisman-Campbell for helping to arrange such an amazing and successful event for our members.
Though Fashion in the Middle Ages was curated by Margaret Scott (and also wrote the companion book), Morrison proved to be extremely familiar with all its intimate details. Most impressive of course, is the amazingly small and incredibly detailed image: Philosophy Presenting the Seven Liberal Arts to Boethius dating to about 1460 – which Morrison helped CSA attendees understand on several levels. It is the centerpiece of the exhibition, and the photograph below just doesn't do it justice (the introductory image shows a close-up detail).
Morrison's talk covered everything from the history of dyes, and textiles (I was especially fond of the 'cloth of gold' discussion) to sartorial shifts (including both clothing and accessories – especially interesting was her discussion of the iconic conical 'princess hat'), as well as sumptuary laws and class distinctions. (Favorite tidbit: "According to a law of 1463, short gowns that revealed men's buttocks were restricted to the upper classes." (see the man in the red tights on the extreme left of the image below).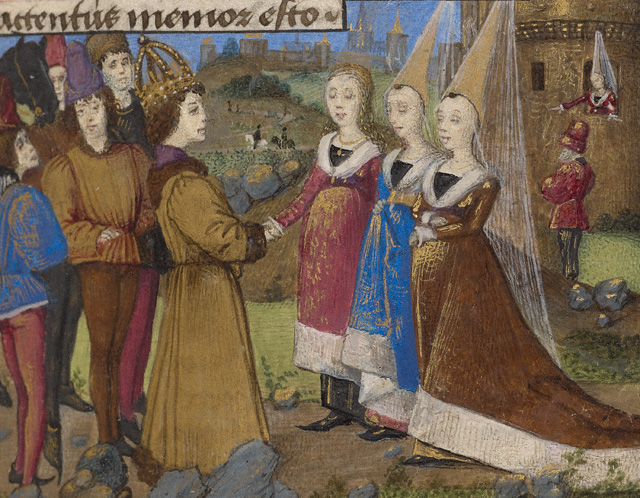 This exhibition was timed to coincide with the Morgan Library's "Illuminating Fashion: Dress in the Art of Medieval France and the Netherlands, 1325-1515" (which closes September 4). Exhibition catalogues for both are available -and in varying degrees of detail. Those looking for a shorter discussion should look to the Margaret Scott's book for the Getty, as it is slim and only $20, while those looking for significant detail and large illustrations, Illuminating Fashion is about 2 inches thick and costs $85.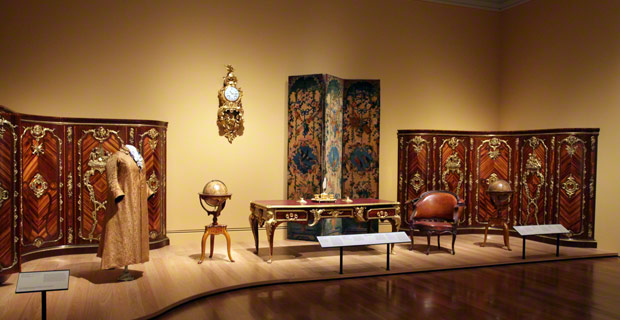 Paris: Life & Luxury, was an especially unique experience and curator Bremer-David had arranged for the exhibition to include different kinds of objects together based on the hours of the day that they might have been used – providing marvelous context and understanding of everyday luxury of 18th century life.  This, of course included clothing – primarily from the LACMA collection, but also some incredibly beautiful paintings. Men's banyons, and dressing caps, as well as women's attire were on display within their proper settings (including furniture, clocks and other decorative objects).
My two favorite rooms were "Morning: Rising & Dressing" and "Morning: Fashionable Pursuits of the day." These two rooms included the many of the textile and fashion arts and I was especially fascinated with the tools used for sewing, embroidery and knitting (yes knitting!) The Skein-winder (or devidoir) of gilt bronze (1740-50) and a lacquered wood shuttle (a navette) dating (1750) on loan from Les Arts Decoratifs, Musee des Arts in Paris were both exquisite.
In terms of textiles, my two favorite pieces were the silk-satin bed hangings dating to 1690-1714 and the Robe a la Francaise with gold metallic lace trip dating to 1760-65. The bed hanging had been acquired some time ago (1979, I think) with little provenance information, and is somewhat mysterious – though incredibly beautiful. It had never been exhibited before, and is not likely to be seen again. For those interested in learning more on the Robe a la Francaise, be sure to check out the online slideshow complete with audio from Chrisman-Campbell on this dress. We were lucky enough to be standing in the center of the Fashionable Pursuits room at noon – and the brilliant sounds of a re-animated 18th century clock chimed out its bells. The curator had us stop and listen, and we were all transported back in time to the 18th century. It was magical. You can hear several 18th century clocks, and even download them as ringtones from the Getty's blog.
Though this CSA event sold out, much of the information provided on these tours is available in book form, or from the Getty's website. If you're in Los Angeles, I encourage a visit to Fashion in the Middle ages before it closes next weekend. A slideshow of the highlights from "Paris: Life & Luxury" including some wonderful zoom-able images, are available via the Getty site.
References:
Bremer-David, Charissa, Peter Bjorn Kerber, Kimberly Chrisman-Campbell and Joan DeJean Paris: Life & Luxury in the Eighteenth Century, Los Angeles: J. Paul Getty Museum, 2011.
Scott, Margaret. Fashion in the Middle Ages, Los Angeles: J. Paul Getty Museum, 2011.
van Buren, Anne H. (Author) and Roger S. Wieck (Editor) Illuminating Fashion: Dress in the Art of Medieval France and the Netherlands, 1325-1515, D Giles Ltd (London) & The Morgan Library (New York); 2011.