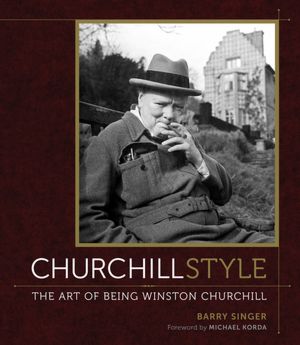 As the New York Times pointed out back in February ("Winnie the Posh"), there is a small, but growing number of new books devoted to Winston Churchill.  Though their brief note (and image gallery) didn't do much in terms of reviewing the new book Churchill Style: The Art of Being Winston Churchill by Barry Singer, the Wall Street Journal's article from last Saturday ("The Wonderful World of Winnie") does go a little further:
"Churchill's tastes for whiskey, Cognac, cigars and painting are well known, but Mr. Singer's book—packed with the prime minister's old order forms for suits, Champagne and cigars, and a wealth of archival images—unearths other, more surprising tastes, including a penchant for butterflies, roses, pink silk underwear, zippers (on anything), bricklaying and even jumpsuits."
The article goes on to give brief quotes from the book on Churchill's tastes for suiting, bowties, outerwear, undergarments, workwear, shoes and hats.
Having the book in hand, and reading it over the last week – I find that Mr. Singer is a marvelous and succinct story teller. I've learned tremendous amounts about a man whom, until recently, I knew very little. Each chronological chapter is rich with not only illustrations, but also in tremendous stories. Each chapter is divided into short subtitled sections discussing things like "Home," "Fashion," "Dining," and "Pastimes." Of course, the sections on fashion were of interest to me – but surprisingly, the home sections revealed interesting textile tidbits as well. For example: as a teenager at boarding school in the 1880s, Churchill asked his mother to send him some Liberty fabrics to decorate his dorm room.
The book makes the political figure seem somehow more human and more knowable, by making his everyday life and everyday choices more readily accessible to us. The book was officially released to the public yesterday and is for sale at Amazon or your local bookstore. A few select images of Churchill, as depicted in the book, are below: