The key to approaching the latest Costume Institute exhibit [Rei Kawakubo/Comme des Garçons: Art of the In-Between, on view to September 4, 2017) is to always keep in mind the telling words in its title—The Art of the In-Between.  For it is in the world of in-between designer Rei Kawakubo has been living and working for most of her career–a search that spans more than 40 years. The current exhibit allows us inside the restless mind of a strong-willed rebellious spirit.
The entire exhibit is housed in a series of stark white cylinders and boxes. There are no labels, just a brief name for each section and a number next to each piece. There is a brochure one can pick up at the entrance that contains quite a bit of information, along with many quotes from the famously taciturn designer. I advise reading it later. Concentrate on the clothes, their shapes, their materials, and their details. This is a show that demands focus.
Rei Kawakubo was not trained as a designer of clothing, she studied fine arts and aesthetics in college and evolved into fashion design. Her arrival on the international fashion scene in 1981 coincided with the emergence of other protean talents from Japan in the 1980s, including Issey Miyake and Yoji Yamamoto. (Kawakubo does not like being lumped in a group with them since she claims rightly that they are all very different.) Kawakubo says her lack of fashion training freed her, "I wasn't limited to the confines of a pattern. Not being educated, not being taught how to design, I was able to visualize in a completely different context. And I still seem able to draw upon the unconventional." Lack of fashion training would hinder a more conventional mind, but it is clear Kawakubo has a special view of the world. Some of this may come from her Japanese background. The influence of art of origami, folding new shapes of a flat 2-diminsional material, is visible here, as is the Japanese reverence for textiles and recycling and reusing old materials. As one progresses through the cones and boxes, there are wrapped and tied bundles, a reminder of the Japanese appreciation of package design.
But, there is more here than references. The first garment one is confronted with is a huge ball of brown paper from her most recent Fall/ winter 2017-18 collection called "The Future of Silhouette." It is the embodiment of her design process which, we are told, often begins with a single word or concept like a ball of crumpled paper that her design team interprets. There is no sign of the body here except for the arms, legs and head that protrude from the immense, round bundle. Kawakubo is not concerned with enhancing the shape of the body or being restricted by it. Her designs explore the space between the body and the garment itself. Commenting on one collection, Kawakubo said she was interested in, "…designing from the shapeless, abstract, intangible forms, not taking into account the body." This turned the norms of Western fashion on upside down. One manifestation is the section of skirts form 2004. They are white cotton twill with black or pink sateen facings-stiff bulbous shapes with visible raw edges. The skirts look alike but subtle differences the placement of color and the placement of the seams make each unique. This interest in repetition progressed to explorations of popular and elite culture expressed in the "Motorcycle Ballerina" collection of 2005 and her look at the norms of good and bad taste which used cheap materials like elastic and white nylon tulle.
She moved away from aesthetic concepts to memories first in the 1990s with dresses that utilized the hoops and bustles of the 19th century often piled on the body in multiples. She returned to the past in this century 2012 with collections, that featured layers of garments evocative of birth, marriage, and death. Looking at one garment which had a childlike white lace dress with puffed sleeves sewn to its front I was reminded of how we carry our memories of these important milestones with us throughout our lives.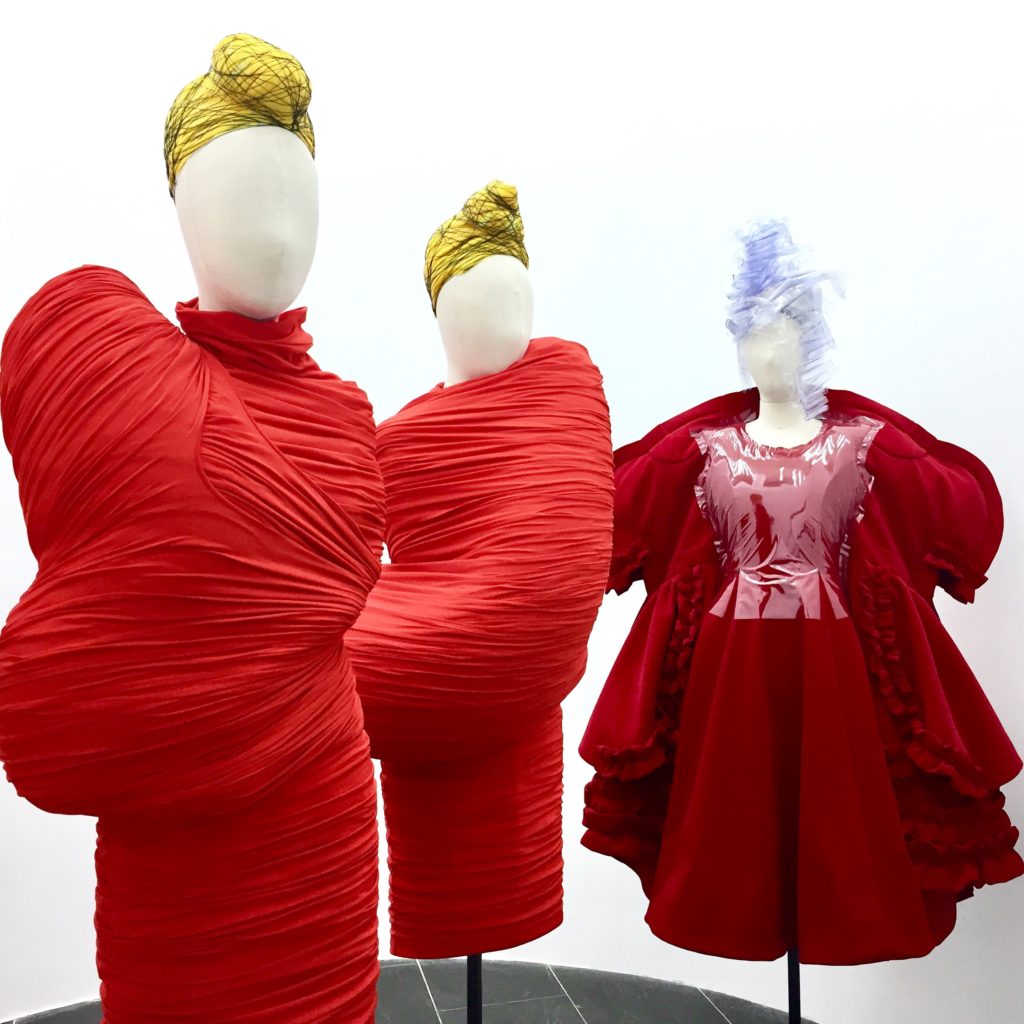 But it is the sight of the "Body Meets Dress" collection that shows a dramatic turn [see intro image]. This is the "Lumps and Bumps" collection. Kawakubo reassembled the human form by inserting down pads into the stretch gingham garment. This created figures that are nothing like the conventional fashion model/clothes hanger shape with narrow hips, high breasts, and long legs. These figures could be called grotesque with their asymmetric bulges making the body look deformed. And yet, the figures had their own beauty as 1997 videos of the Merce Cunningham troupe show. A former member of the company told me, the performance was extraordinary because the dancers were moving in ways that allowed their movement to be seen afresh. The costumes were also assigned to men and women with no distinction for their sex which was unusual then.
The exploration continued in 2014 when Kawakubo changed her design process again and concentrated on translating her concepts directly to design. The newer clothing is shown alongside earlier pieces, so one can see the move to pure form with the body as an armature for display of concepts. Robin Givhan, an astute observer of the fashion world, says it best, "Kawakubo's clothes have a life separate from the body that wears them. They come with their own context; they reference themselves. The garments tell their own story."
As you walk through the final sections with stuffed knitted forms, figures covered in brocade petals of the 18th century and samurai armor, mannequins that look like they are covered in multiple wrapped bundles and others sprouting astonishing featherwork, it seems one is seeing the entire array of age-old techniques of fashion in forms never tried before. Finally, near the end I was stopped short by two figures covered in white synthetic wadding usually used for the inner construction of a garment. They are misshapen, armless. These two pieces are from the latest collection prophetically titled "The Future of Silhouette." It's clear Kawakubo is not done yet subverting our expectations.
You may not understand how Kawakubo's restless exploration of the "In-Between" affects how you see the world. But, it has. This exhibit provides a look into that mind. Kawakybo repeatedly denies that her work qualifies as "art," believing that fashion is a "more social phenomenon." The one thing we can be sure of—she will continue to search restlessly and her search will be a beacon in the clutter of our culture.
The exhibit does not cover the earlier years of Kawakubo's career with the exception of 8 pieces from the 1980s which are mainly concentrated in the "Fashion/Antifashion" section. For an excellent biographical article, read Judith Thurman's 2005 article in The New Yorker, "The Unsettling Vision of Rei Kawakubo."
---
Nadine Stewart is currently an adjunct professor of Fashion Studies at Montclair State University. She has a Master's degree in Fashion and Textile Studies from the Fashion Institute of Technology (FIT) and a BA in English Literature from Dickinson College. She has a longtime interest in millinery and milliners and is currently working on a social history of American milliners. She lives in New York City, right behind FIT!