For those who love all things fabulous, there is nothing quite like a debutante ball gown to sweep you off your feet. Debutantes: When Glamour was Born by Diana Oswald (Rizzoli International) offers a decadent peek inside the world of the debutant.
Debutantes: When Glamour was Born includes 150 photographs by renowned fashion photographers such as Horst P. Horst, Bill Cunningham, Cecil Beaton and Toni Frissell (among others), as well as reprinted society pages, documenting high fashion worn by society women in both Europe and the United States during the 20th century. It makes special use of previously unpublished pictures from personal archives of several debutantes (including Lavinia Baker and Tricia Nixon, among others). Gowns by the likes of Oscar de la Renta (who also wrote the foreword), along with Norman Norell, Norman Hartnell, Hattie Carnegie, Christian Dior, Coco Chanel, Mainbocher, and Madeline Vionnet, among other un-credited designers are included.
According to the introduction by David Patrick Columbia, American's adopted the practice of presenting a young lady into society (a key part of match-making for the wealthy) from Europeans in the 19th century. Surprisingly, American's had stricter rules than did their British and French counter-parts. Columbia's introduction goes on to highlight the role of the Waldorf-Astoria hotel in New York Cotillions, present pages of Town & Country, and provide details of society parties for Doris Duke, Barbara Hutton, and Jacqueline Bouvier (Kennedy). It is a brief though sweeping overview (that could use some source citation).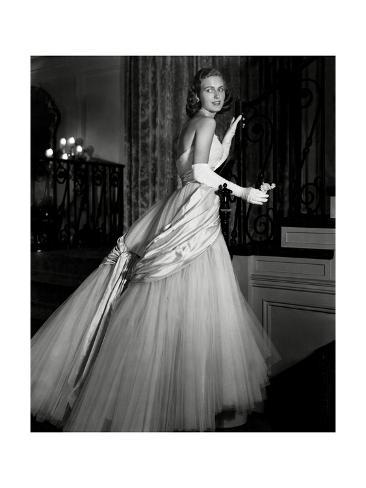 The remaining five chapters of the book are photographic selections with detailed captions. Chapters are grouped thematically and titled: A Fine Elegance; Celebutantes; Glitter and The Dress; The Grandiose; and Summer Soirées. Photos are captioned with tid-bits of interesting information on the wearer and date, and sometimes the designers is mentioned and described. Example: "Debutante Tess D'Englanger wears a white organdy gown by Irene, 1952. Irene began her career as a costume designer and catered to both high society and Hollywood royalty." (34)
The gowns in this book are beautiful, but  I think each chapter could have benefited from a short (two-page) introduction to provide better context and organization. That said, Debutantes: When Glamour was Born does provide photographic access to a very private world of the rich and famous with previously unpublished material, that could be useful to collections housing debutante gowns. It will also most certainly appeal to those looking for inspiration for formal gowns from history, or to add a bit of glamour to the coffee table of the fashion enthusiast.
Fore more on the book, see the New York Review of Books.