Jennifer Heath, a UC Press author (The Veil: Women Writers on Its History, Lore, and Politics
and Land of the Unconquerable
) recently turned my attention to contemporary artist Mary Tuma. Having only seen a photograph of her 'tall fashions,' and knowing that her work stemmed from in interest in liberating women, I became intrigued and wanted to know more.
A native of Oakland, CA she earned a BS in Costume and Textile Design from University of California – Davis.
Her artists statement notes: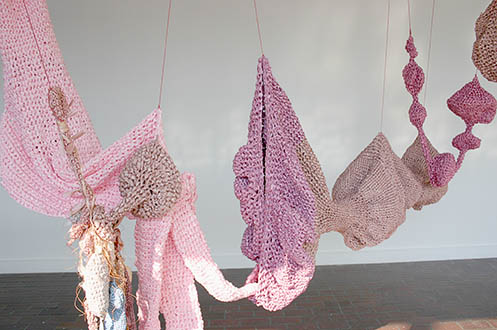 "My work addresses the issues of the transformation of the body and the spirit through the use of clothing forms applied to found objects or placed within a contextual environment. The use of old fabrics and found objects is important in creating a work or environment that evokes a feeling of loss, or distant memory."
Not surprisingly, given her interest in crochet and sewing, her work reminds me of Ruth Asawa's basket-like sculpture. Heath filled me in a little bit more on her recent work, Three Pillars: Liberty, Unity, Voice: "[It's] huge. . .  but based on the fashions of Marino Fortuny, the kind of Greek revival dresses that helped liberate women from corsets. To Mary, these are meaningful in terms of  the Arab Spring (she is half Palestinian). The Three Pillars just went to a show in Kuwait. . . .  Mary teaches fibre arts and fashion at UNCC." Mariano Fortuny's designs (worn by the likes of Lillian Gish and Isadora Duncan) and their influence on Tuma's work seemed a unique connection. Happily I had a chance to ask Tuma about her work directly:
Fashion Historia: What is the significance of fashion history in your current piece, Three Pillars: Liberty, Unity, Voice?
Mary Tuma: "Fashion is a human rights issue. One can see this clearly in the current debate over the right or requirement of women of Islamic faith to wear head scarves. Mariano Fortuny's work has always stood out in my mind as a great example of the fashionable un-corseted natural body of woman— a celebration of unaltered human form. For me, his work speaks volumes about woman's right to exist in her natural form apart from cultural shackles. Of course Fortuny's Delphos dresses (on which I based formal aspects of my piece Three Pillars) were inspired by ancient Greek statuary, which serves as a reference to a culture involved in early experiments in democracy. So, for that reason, the Fortuny model seemed very appropriate for a piece about the current "Arab Spring," which is what Three Pillars addresses. For me, democracy is also a feminist issue, and is meaningless if it's not. As the Arab World changes, it is my hope that women will step up and take an increasingly integral role in forming new governments and creating policy. So Three Pillars: Liberty, Unity, Voice (which also spells LUV by the way!) is my way of hoping to inspire feminism in the face of changes and to inspire women to stay in the dialogue."
Fashion Historia: How did your education at UC Davis help prepare you for your work as an artist ?
Mary Tuma: "My education at UCD Design prepared me in many ways to function as an artist working in fiber materials and methods. Apart from learning to work with dyes, garment forms, etc., I took some very important classes that directed my thinking. History of Costume (with JoAnn Stabb) was one of these and it was where I first learned about Fortuny and his amazing work.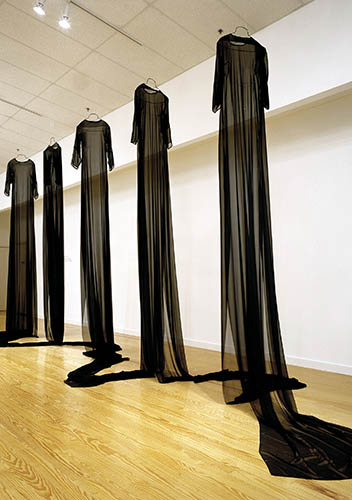 I have been fascinated since then with the mystery of the permanently pleated silk. Three Pillars was my first experiment in playing with permanently pleating silk after a student brought me an article from the web on how to "fake" it! The other two very influential classes were Textiles of the World 1 & 2…. These three courses have influenced my direction with my work in a sort of constant way. I did go on after earning my BS in Textile and Costume Design from UCD to study Women's Fashion area at FIT [Fashion Institute of Technology] and Costume Design for Theater at Humboldt State University. Of course all of these experiences contributed to my knowledge base and have given me a unique perspective from which to work. My MFA is in Fine Art from the University of Arizona, where I studied Fibers with Gayle Wimmer. It was at the University of Arizona where I began to feel the difference between Art, Craft and Design and where I was able to negotiate between these areas to develop my practice."
I'm thrilled to be able to share this unique use of fashion history in contemporary art. I think Mary Tuma's work a new iteration of the 1980s 'art to wear' movement (which holds strong ties to California). I'd love to have your thoughts and comments on her work.
Additional Resources:
For more on Classicism in fashion see the Metropolitan Museum of Art Costume Institute's online exhibition Goddess (2003).
For more on Mary Tuma, please see the Institute for Middle Eastern Understanding.
*Image above is of a Mariano Fortuny Delphose dress (1930) via the MET, CI (2009.300.2606, Brooklyn Museum Costume Collection at The Metropolitan Museum of Art, Gift of the Brooklyn Museum, 2009; Gift of the estate of Mary Boocock Leavitt, 1974)