I recently watched the 1963s musical Bye Bye Birdie and wanted to quickly share some of my favorite costume moments from this wonderfully bright and colorful film (if you haven't seen it, the camp factor is through the roof).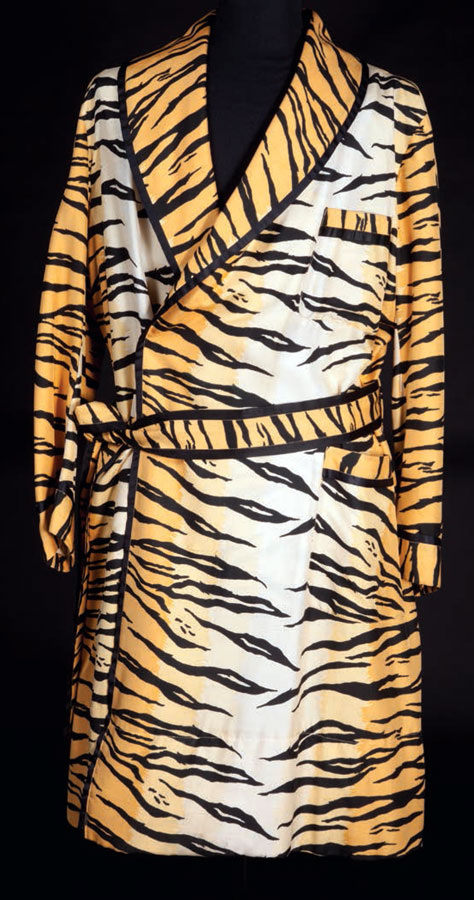 The costumes — executed by Pat Barto and Marjorie B. Wahl — include some pretty outrageous ensembles. Hearthrob Rock 'n Roll star 'Conrad Birdie' (quite clearly modeled on Elvis) has some of the loudest costumes (including the tiger-print bathrobe seen on the right and an Elvis-esque gold lame suit), but the costumes of both Kim (Ann-Margret) and Rosie (Janet Leigh) have greater significance – both to film history and popular culture at large.
Many will be familiar with the theme song to Bye Bye Birdie from it's brief appearance in a Madmen Episode, where Ann-Margret's character is explored as the epitome of innocence and sexuality. In her autobiography, My Story, Ann-Margeret explains a little more of that dichotomy and how it worked to her advantage when getting cast in the role (See photos above):
For whatever reason, director George Sidney decided that I was perfect for the part of Kim McAfee. He'd even selected me before we met, having spotted me dancing at the Sands in Las Vegas the previous New Year's Eve. A while later, he sent me a script for Birdie, then arranged a meeting in his office. He always reminded me that he'd had to keep from smiling at how I'd put on a pleated skirt and flats to try and look sixteen. 'I saw how you looked in Vegas,' he confessed. 'It wasn't sixteen.'"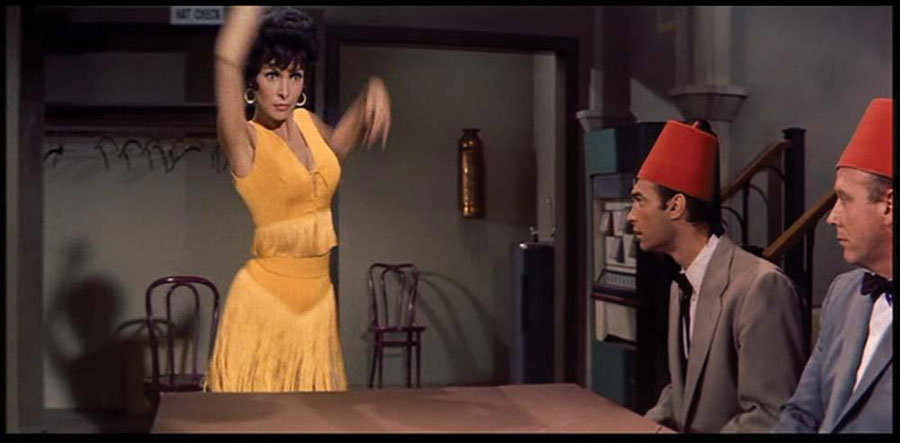 Rosie, the character played by Janet Leigh, is supposed to be a wiser "New York" woman in contrast to Kim, the innocent teen. Leigh was a natural blonde, and that didn't quite work for the character's image. In a contemporary newspaper clipping, Leigh is quoted as saying "In my present film, "Bye Bye Birdie" at Columbia…I play the role of Rosie De Leon, Spanish secretary and girl friend of Dick Van Dyke. Now, with my blond hair I don't exactly look Latin, but wearing a black wig—vive la difference! And that's where the fun comes in." [Taken from a clipping in the Bye Bye Birdie folder from AMPAS].
In her 1984 autobiography, There Really Was a Hollywood, Leigh went on to discuss the importance of that wig to her later career, saying "When I was shooting Bye Bye Birdie, Blake Edwards had visited the set, and was fascinated by me in the black wig. He was preparing The Pink Panther (and a wig ended up serving as the disguise for the lady's escapades) and approached me to do the film."
From a historical perspective, Bye Bye Birdie highlights the growing influence of youth culture, the increasing importance of television and other mass media, not to mention the cult of celebrity. Many of the costumes include the familiar 1950s shirtwaist dresses, and some vaguely mod references. Here's a good clip to get you started:
Resources:
Ann-Margret, with Todd Gold, My Story, New York: G.P. Putnam's Sons 1994 p. 98
Leigh, Janet, There Really Was a Hollywood, Garden City, New York: Doubleday & Company, Inc., 1984 p. 300