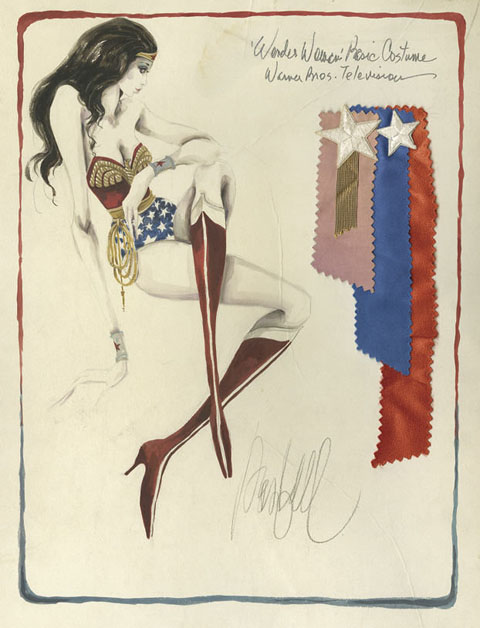 So really, I am fascinated that there is going to be another iteration of Wonder Woman (apparently in 2015, and possibly starring Christina Hendricks of Madmen fame, to be directed by Nicholas Winding Refn). The original series, starring Lynda Carter, ran from 1975-1979 and the costumes were designed by Donfeld. Donfeld, who died in 2007, was nominated for four Academy Awards and designed costumes for films including "They Shoot Horses, Don't They?" and "Prizzi's Honor."
Photographic evidence suggests that I loved Wonder Woman so much as a kid, that I had and wore a pair of Wonder Woman Underoos (at a costume party of some sort – possibly a birthday). Apparently, Christina Hendricks had the underoos too. But I wonder – did Donfeld have anything to do with this childrens design?
I'm curious to know who will design the costumes for the newest version of Wonder Woman, and how her look might reflect 'current' fashion (if the story-line holds to the 1940s, might the costumes reflect that more 'accurately'?)
According to the Metropolitan Museum of Art's recent exhibition Superhero's: Fashion and Fantasy:
"Over the years, Wonder Woman's costume, like her character and physique, has been reworked and even reinvented according to prevailing fashions. One of the more drastic redesigns appeared on the cover of Wonder Woman No. 178, October 1968, where the heroine wears an implausibly short mini-dress and a pair of impossibly high thigh-high boots. Bernhard Willhelm evoked this "Mod" look in ensembles from his spring/ summer 2008 collection, although with their star-spangled patterns they also suggested Wonder Woman's original patriotic costume."
I'm also curious if the designer for the new Wonder Woman will be able to capitalize on merchandising opportunities, as Madmen designer Janie Bryant has done.
A side note: Director Nicholas Winding Refn is still in the 'hoping' stages of production, and thinks he might be closer with a remake of Logan's Run to star Ryan Gosling. Franlkly, I'm not excited about that idea.
Additional Resources:
http://www.wonderwomancollectors.com